Enterprise Print Management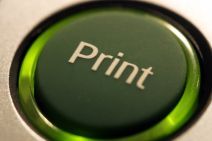 At Reign, we are more than just ink on paper. We are your business partner.
Enterprise Print Management– What is it? It is really the core of Reign's philosophy. We don't just provide print. We are here to help you understand print budgets, evaluate your communication needs & align these with your company goals. We look across the entire enterprise ('organization') of your business. Print (documents) touches every aspect of your business and the impact costs (hard & soft) can be overwhelming to any size company. This is where Reign shines. Analysis is at the heart of everything we do.
The Requirement Analysis: At Reign, we strive to first clearly understand the purposes, objectives, practices and procedures of each given application (document). We then challenge the current process, materials & technology involved using an invaluable breadth of knowledge – our network of national resource partners. Working hand in hand with the "right" partner, Reign will then build, present, test and measure the results of each solution. Whether the application involves re-organizing a corporate stationery program, outsourcing of the invoicing program, or transitioning to bar coded thermal shipping labels…Reign applies this expertise to each and every application.
So, How Does Reign's Enterprise Print Management Help Us?
It is a service (and a guarantee) whereby Reign will provide "measurable" savings and process improvements in your company's printed business communications (reviewing all facets of the "enterprise" ~ across financial, operations & marketing departments).
Many Companies:
...Have multiple people buying print, and therefore don't know how much $ is spent annually.
...Have a large percentage of printed materials that are wasted or obsolete
...Have no specific plan to measure ROI, control print content and its usage.
How Is This Done?
...As a team, we will review your company's print expenditures; pinpoint ways to eliminate waste, streamline print production & develop budgets.
...Reign will provide a written cost savings guarantee for the annual print procurement, & begins this process by re-engineering your print procurement process to meet your corporate communication goals.
Call 847.590.7091 today to speak with an Account Representative to introduce the complete line of Document Solutions available at Reign Print Solutions...and, more importantly, for an Enterprise Print Management Assessment.