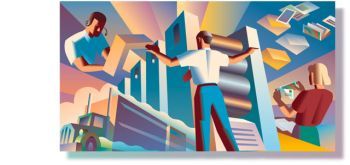 The foundation of Reign's business has always been to help our customers deliver their message in the most creative, accurate and cost effective manner. Whether the application calls for a direct marketing piece, an integrated form/label, a print system conversion or a transactional mail program…Reign's Ideas, Methods and Products will provide a complete solution.
Our product and services portfolio embraces today's technologies and tomorrow's ideas. Our approach makes it simple to create custom-tailored solutions that enable our customers to spend more time focusing on their business…and less time searching for answers. For whatever the PRINT need may be, Reign will have the solution. Our key products and services include:
Promotional Items / Corporate Branding
Promotional items are designed to help your business grow - build or enhance your corporate/ brand image, boost sales, reward your employees and thank your customers.

Warehouse Rack Labeling - Reign Install VideoLarge & small warehouses alike require that each DC rack and bulk storage location is identified accurately - and with the right combination of imaged signage and labels. Managing the data, the sequencing, the bar code imaging, and the installation can be expensive and time consuming...and can result in errors if not done properly. Reign Print Solutions can put it all together for you - the data, the media, and the installation - accurately the first time, every time & always within your "go live" date.
CALL REIGN SALES FOR MORE DETAILS! 800.853.3552