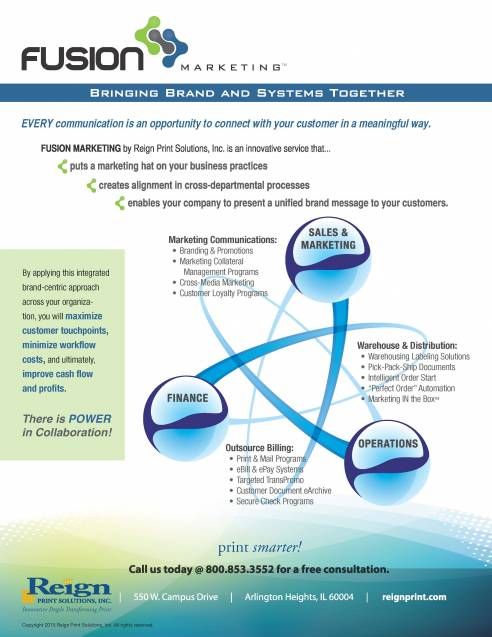 Technology, Marketing & Reign's Unique "Fusion Marketing" Vision
Technology touches nearly every aspect of our lives and businesses. It also brings on tremendous change and opportunities...for those ready and willing. Truly trans-formative technology, such as the Apple iPhone, brings about such fundamental changes that we wonder how we did things before it arrived.
Maximizing the customer experience & maintaining a relevant conversation with the customer are the keys to not just retaining customers, but keeping the "right" customers.
With technology as the catalyst, consumer expectations now sit firmly on a foundation of immediacy. Find things faster, buy things faster...and get them into our hands faster. The need for instant gratification is here to stay.
Reign believes there is trans-formative change coming fast to the e-commerce operations game. Reign's focus is to prepare companies to fundamentally change how they blend and use their critical customer communications.
Why? Because at Reign, we believe that EVERY communication you send out is an opportunity to connect with the end customer in a relevant and meaningful way.
We are talking about the very fabric of how you inform, market, communicate, distribute and grow. Consider this; there are both functional document and marketing-driven communications that touch your customer base on a regular basis. It is Reign's vision to help bring these processes together to enhance communications, maximize your customer "touch points" while also minimizing internal costs to drive revenues.
However, connecting of these dots is not an obvious or easy process.
Remember this: technology alone brings no value. It's the combination of a clear strategy; the right technology, high-quality data, lean processes...AND the proper marketing that creates real value.
Reign understands the complexity of customer communications and the document life cycle...and the cross company/departmental challenges that exist in making certain "the message" is clear, relevant and most importantly - productive. We refer to this as "Fusion Marketing - Bringing Brand & Systems Together". (see graphic above)
This is why Reign is driven to provide our clients with a cohesive strategy for combining technology with relevant and intelligent marketing. The type of strategy that appeals to the CMT, or Chief Marketing Technologist. The person responsible for building the information bridge between marketing and the digital IT world.
Please watch for more on our "Perfect Order Process" & "Marketing IN the Box" methodologies...REAL WORLD answers for the new e-commerce/e-fulfillment challenges.
...print smarter